I was just recently looking at this blog thinking, this is a great resource for planning and design; too bad she's in Canada, I guess I shouldn't contact her. Now I'm racking my brain to figure out where I did contact her (must've left a comment?) cause lo and behold I got a little roasted chestnut confessional comment this morning from Lisa from Blush on my Manhattan blog, and right as I was about to email her a hello, I got another comment letting me know she featured my work on her blog today! Goes to show you that in this internet age, no vendor or location is really any further away than the click of a mouse (gosh, that was a nerdy thing to say!).

Take a look at this post, showcasing the beautiful and fabulous Lauren and Derek's fall 2004 wedding!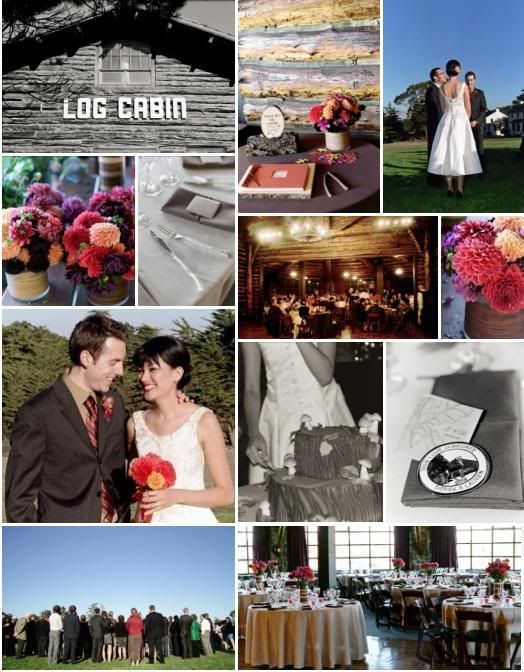 This wedding is a client (and personal) favorite, and has also been featured in ReadyMade magazine's only "Love" issue. Lauren and Derek (who I have gone on and on about - she's a family friend I grew up with, and he's, well, her awesome longtime partner) are crafty, kind, intelligent, adorable, and so smart and creative that they now run an online and physical store, the Curiosity Shoppe. You can check out their "Smarts and Crafts" blog here for craft projects and arts coverage.

But if you're in the SF area, go visit their store and gallery at 855 Valencia Street. You will not be sorry!

Back to the wedding - it was a lovely fall day, so the ceremony was just right taking place out on the green, lush lawn, with the bride and groom half surrounded by their friends and family. Lauren wore an amazing one of a kind ballerina-esque gown with tiny pale leaves sewn onto it, created by her friend and former employer, Todd Oldham. She also wore some amazing Christian Louboutins that I am still so envious of! :)




Their reception took place inside the little Log Cabin, and the woodland theme extended to a log cake with sugar mushrooms popping out of it; silverware in the shape of twigs and sticks; scout patches that declared the party a "true love jamboree"; gorgeous vibrant dahlias in every shade; leaf-shaped place cards; a gourmet picnic BBQ style sit down dinner; and even wood-grained gold rings!




Since this wedding continues to be a favorite, and since I sadly recently took it down from my site to include a more recent wedding, here are some of my favorite shots from the day, as well as the pages from the ReadyMade spread!




Oh, a couple more favorite elements - they had a s'mores bar (!) on the patio in the BBQ area, picnic tables and blankets spread on the lawn until the fog rolled in, horseshoes, and just a really complementary space - the log cabin's ceiling has these wagonwheel chandeliers, so cool!




It feels a little odd to show work that's 3 and a half years old (!) but I also just adore this wedding. I feel that my style as a wedding photographer has really flourished in the past few years in particular, but I am also really proud of these photos, and their wedding was so creative that there are a ton of great ideas to borrow!

Edited to add a slideshow, and some more detail shots!

The Log Cabin is a cool, retro, raw wood place to get married (and so close to the rest of SF):




The creation of the (d.i.y.) beautiful centerpieces! I think they went to the SF Flower Market to get these gorgeous flowers:




My dad's contribution to the guest book - don't know if you can read it but it says "A special day for a dear friend. Happy forever." Cute!




My dad with Lauren's sister, Jessie (we were the two jessies growing up):




True Love Jamboree!




My version of a self portrait : )




Lauren's beautiful, custom made (by Todd Oldham!) dress with the delicate fall leaves:




I was trying to figure out how to explain this third, funny (boy) Jesse, but I don't think I can, so I'll just say - he came to the wedding pretending to be in the secret service.




Lauren's mom played mahjong with their family. She grew up in SF's Chinatown, so cool!




And horseshoes outside:




Another cake shot:




and, the slideshow!